MicSwap: 麦克风 模拟器 和 录音机
MicSwap:app下载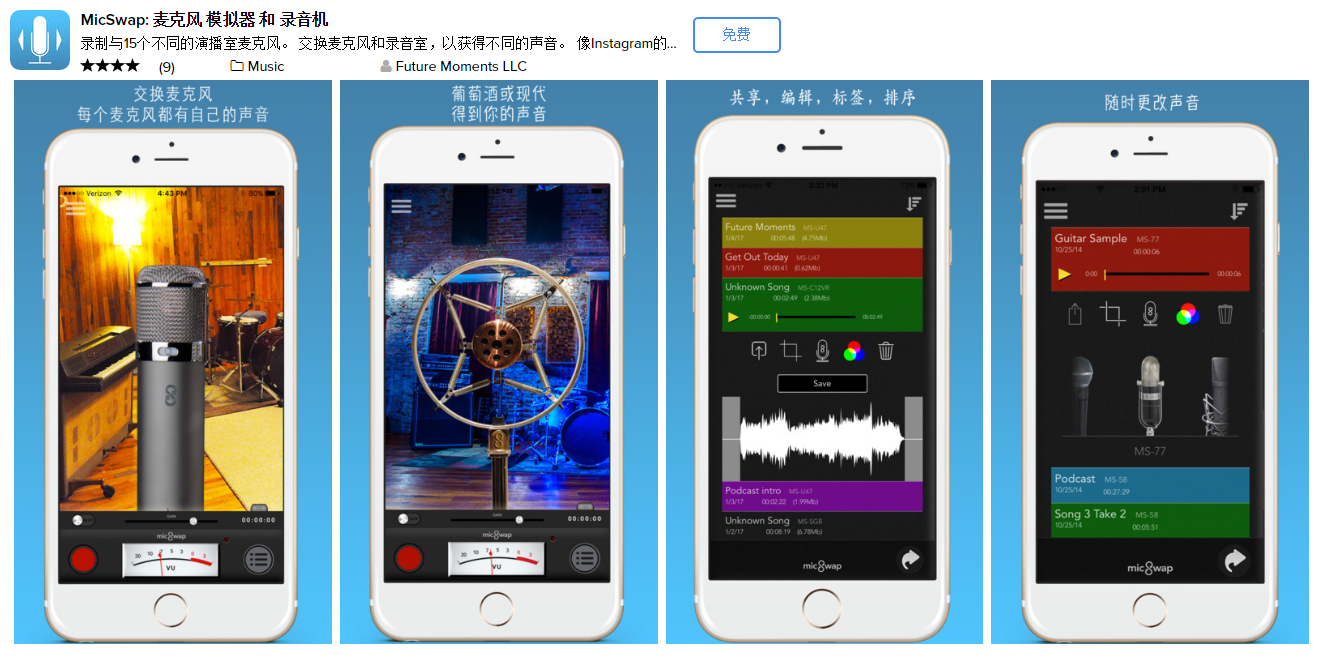 MicSwap
录制与15个不同的演播室麦克风。 交换麦克风和录音室,以获得不同的声音。 像Instagram的音频。 记录或导入音频并随时更改声音。 编辑,颜色标签,排序和共享您的录音在任何地方。 用于音乐,歌曲,播客,配音等。获取MicSwap Pro与外部麦克风或接口一起使用。
对于播客,旁白,音乐等...
為了獲得最佳的音頻體驗,請使用耳機。
產品特點
• 通過不同的麥克風為不同的聲音錄音
• 可變的麥克風過濾器以修改預先存在的音頻
• 調整任何麥克風的增益值
• 編輯或修剪錄音
• 啓用/關閉實時監控
• 預載AudioCopy
• 通過變更錄音室環境以更改背景
• 顏色標籤記錄
• 可根據日期, 標題, 持續時間, 所使用的麥克風和顏色標籤排序
• 能夠獲得每一個麥克風和工作室的描述
• 可根據你喜愛的麥克風排序
同步與共享
可與iCloud, Dropbox, Facebook, SoundCloud, Twitter, 短信、電子郵件和Airdrop同步與共享
使用iTunes的文件共享通過USB或Wifi輸入/輸出音頻
IN- APP 升級功能
安裝及使用外部麥克風
通過購買MicSwap ™ Pro以使用外部麥克風錄音
設備要求
iPhones, iPod touch, iPads
ENGLISH
"MicSwap Turns Your iPhone Into Rock & Roll" - TechCrunch
"Great, 4/5 stars!" - MacLife - Get one of the most unique recording apps in the App Store. A full mic locker in your pocket. Use for Podcasts, Music, Voiceover, Memos, etc.
A Studio, Mic Modeler & Recorder
Record, import, change the sound of any audio
Adjust the input gain
Live monitoring
Color code your recordings & much more!
"Like Instagram For Your Voice" - Forbes
Use for Podcasts, Music Creation, Singing, Karaoke, Memos, Ideas, Voiceover, etc
MicSwap is a highly intuitive tool that simulates a real studio environment. It's a mic locker and recording studio in your pocket. Record and filter new or pre-existing audio. Serious audio engineers, musicians, recording hobbyists, podcasters etc..
3 MICROPHONES INCLUDED
Choose various microphone emulations, from classic ribbons to modern condensers, and record with the tap of a finger. If you want to tweak the sound, simply swap in another mic and the sound will change. Not feeling the studio you're in? You can easily switch studios from the menu. Use live as you would a vocal or instrument pedal.
For an optimal audio experience, please use headphones.
FEATURES
-3 Free Mics are included (Ribbon, Condenser, Dynamic)
-Record through different mics for different sounds
-Swap mic filters to alter pre-existing audio
-Adjust the gain (input) of any microphone
-Edit or trim recordings
-Enable / disable live monitoring
-AU compatible
-AudioCopy enabled
-Change backgrounds by swapping studio environments
-Color label recordings
-Sort recordings by date, title, duration, mic used, and color
-Descriptions of each mic & studio (Tap 'S' on mic)
-Re-order microphones. Put your favorites first.
-Share your recordings and memos
SHARE & SYNC
iCloud, Dropbox, Facebook, SoundCloud, Twitter, SMS, Email, and Airdrop
-Import/Export audio over USB or WiFi using iTunes File Sharing
IN-APP UPGRADE FEATURES
-Attach and use external mic (w/ MicSwap Pro)
-Any purchases made are good for all devices
DEVICE REQUIREMENTS
iOS 7.0 or later iPhone 4, 5, 6, 6s iPod touch, iPad, iPad air, iPad mini, iPad Pro
赞助商